SHANDONG WUWEI FLAME RETARDANT SCI.&TECH. CO.,LTD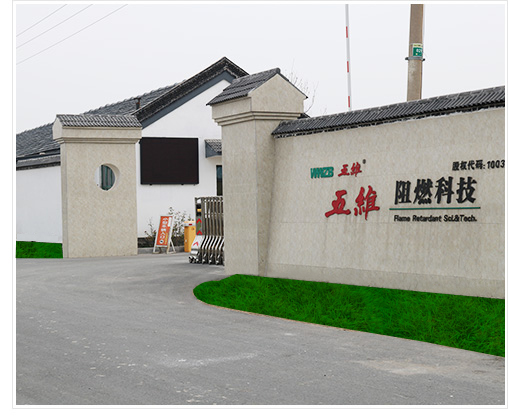 Shandong Wuwei Flame Retardant Technology Co., Ltd., founded in 1998, is a joint-stock enterprise integrating professional R & D, production and sales of environmental friendly flame retardants. The company is located in Huantai County, Zibo City, Shandong Province, with extremely convenient sea, land and air transportation conditions. At present, the company covers an area of 60000m2, has assets of 50 million yuan and 100 employees. In 2004, the company was approved as a high-tech enterprise in Shandong Province by the Department of science and technology of Shandong Province.
The company's main product is zinc borate flame retardant. As an environment-friendly inorganic flame retardant and smoke suppressor, zinc borate is a synergist and direct substitute for antimony trioxide, phosphorus and other high priced flame retardants. It can also be used as a bacteriostatic agent for glass and ceramic glaze, paint and plastic wood. "Development originates from innovation". The company attaches great importance to technological innovation and new product R & D, and is committed to the development of a variety of series products. It can provide a variety of crystalline water products, and can also control the particle size specification according to customer requirements.
The company has two zinc borate production lines with an annual capacity of 20000 tons. The company has passed ISO9001 and ISO14001 international system certification. With excellent product quality and service, our company has a domestic market share of more than 60% and an export volume of more than 70%, and has become an excellent supplier of many plastics, rubber, building materials, ceramics, glass, coatings, household appliances, plastic wood and other industries at home and abroad.
"To be a proud supplier for customers and a dedicated company for employees" is the goal of 5D. Adhering to the business tenet of "quality first, integrity-based" and the principle of "professional service, sincere cooperation and joint development", our company will wholeheartedly provide high-quality products and excellent services for customers at home and abroad.
☆ Zinc borate is a kind of environment-friendly inorganic flame retardant, and it is a substitute for organic toxic halogen and bromine flame retardant. The product form is white powder solid, the flame retarding and smoke suppression effect is good. It is used in many industries of the national economy.